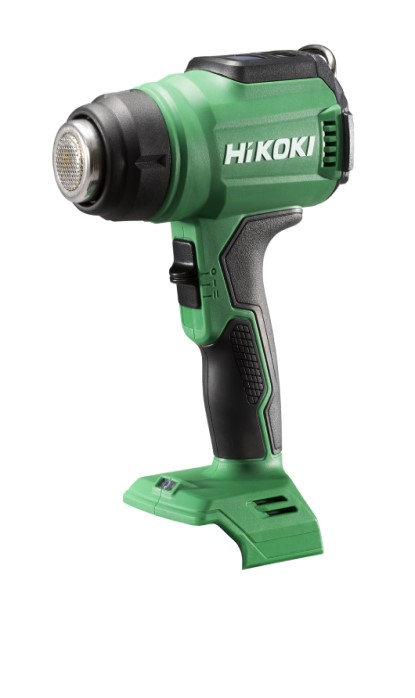 Description
The 18V Cordless Heat Gun has a temperature control button that can be adjusted to set the temperature in 10°C increments from 30°C to 550°C. 
The easy to use two-stage switch controls the selection of low & high air volume and temperature required for various applications
Three different sized nozzles are provided for various applications
The nozzles can be removed hands free by rotating the front cover. This protects the user from burning themselves on the extremely hot nozzle after use.
The convenient integrated hook can be used to hang the tool away safely between operations
The set temperature and the battery level is displayed on the LCD panel.
Specifications
Output Voltage
18V
Motor
DC motor 
2 Speed function
High and low speed
Air temperature
Low
30°C to 400°C
High
30°C to 550°C
Time required to reach the set temperature
300°C
10 seconds
550°C
50 seconds
Air volume
Low
200L / minute
High
300L / minute
Continuous operating time per charge with the Multi Volt battery BSL 36A18*¹
Low
Approximately 21 minutes (at 400°C)
High
Approximately 17 minutes (at 550°C)
Battery
Compatible with HiKOKI Multi Volt and 18V slide batteries
Dimensions L x H x W
165 x 217 x 78 mm (without battery)
Type of switch 
Slide switch
LCD panel
The temperature and the battery level is displayed
Hook
Positioned on the rear of the heat gun
Nozzle removing mechanism
Positioned on the front of the heat gun
LED light
White LED 
Weight
0.6 kg (without battery)
Standard accessories
1 x Nozzle plain, 1 x Nozzle curved surface, 1 x Nozzle round