This is the technical advance that trade professionals have been waiting for.
A next generation battery system which offers the ultimate flexibility of instantly switching from powering 36V tools to powering virtually every one of our 18V tools.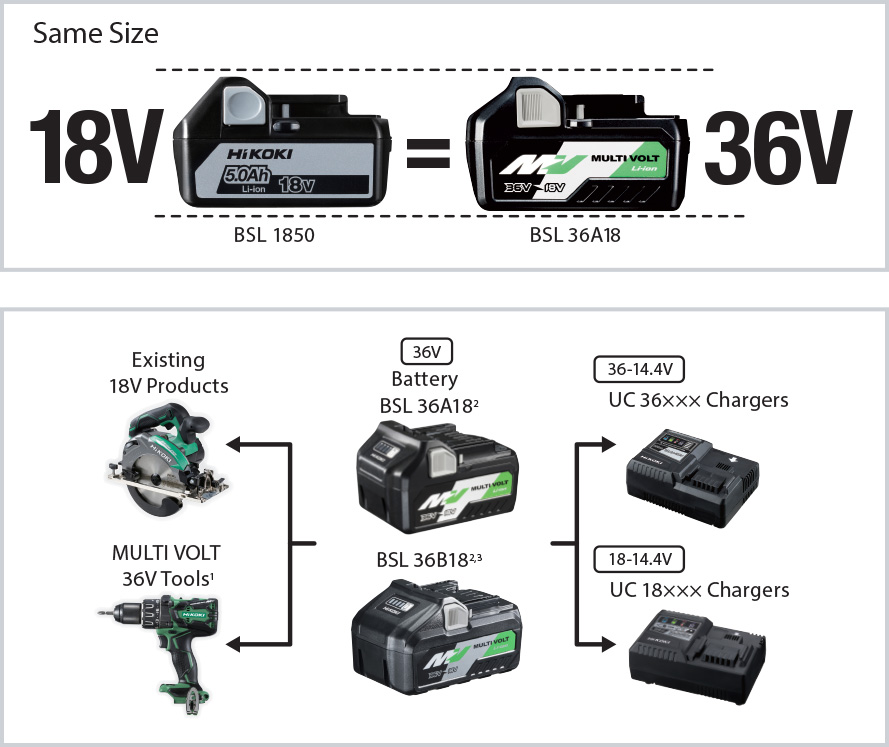 HiKOKI MultiVolt. It's AC Power with DC freedom now made even better by a level of convenience and superior technology you won't get from other manufacturers.
Double voltage supply in one battery means you simply snap it into place and power on, regardless of whether you're using 36V or 18V tools.
This MultiVolt BSL 36A18 battery is compact and lightweight. In fact, it's almost the same size and weight as an existing 18V battery. However, when paired with 36V tools, it delivers electric class cordless power.
Now, whether you're working with 18V or 36V, with one quick click you're powering on.
*References: 1. Not compatible with the following existing batteries: BSL3620/3625/3626/3660, BSL18xx and BSL14xx series. 2. Not compatible with the existing 36V products that are compatible with BSL3620, BSL3625, BSL3626 or BSL3660. 3. Not compatible with the 14.4-36V UC36YRSL charger and the following 18V tools: AW18DBL / C18DBL / R18DSAL / UB18DGL / UF18DSL / UF18DSAL / UR18DSL / UR18DSAL / UR18DSDL.