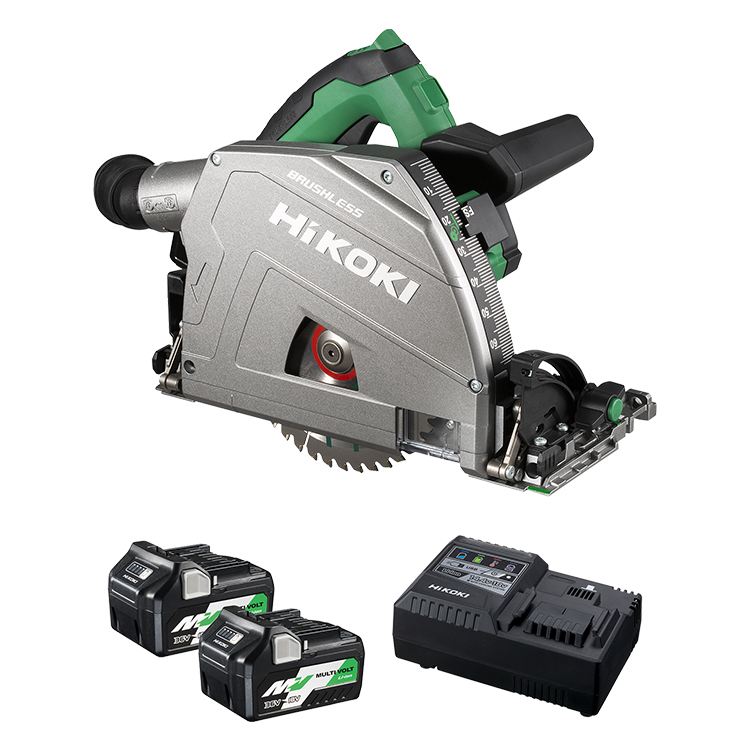 Description
Upgrade your cutting capabilities with the 36V Brushless 165mm Plunge Cut Saw Kit C3606DPA(HRZ) from HiKOKI.
This comprehensive kit includes the powerful C3606DPA Plunge Cut Saw with a brushless motor for smooth and precise cuts up to 66mm deep. 2 x BSL36A18 batteries provide long-lasting power, while the UC18YSL3 rapid charger ensures quick recharging. Achieve accurate and straight cuts with the 1600mm guide rail. Whether you're a professional woodworker or a DIY enthusiast, this kit offers versatility, efficiency, and precision to elevate your woodworking projects. Take your skills to new heights with the HiKOKI 36V Brushless 165mm Plunge Cut Saw Kit.
Combo Kit inlcudes:
1 x C3606DPA 36V Brushless 165mm Plunge Cut Saw
2 x BSL36A18 18V 5.0Ah / 36V 2.5Ah Multi Volt Battery
1 x UC18YSL3 18V Rapid Charger with USB port
1 x 1600mm Guide Rail
Warranty:
Includes 3 Years Standard Warranty with an additional 3 Years when registered online. Click

 

here

 

to register.
Specifications
36V Brushless 165mm Plunge Cut Saw C3606DPA(H4Z)
Voltage 
36V
Motor type
Brushless
Switch type
Trigger
Blade diameter
165mm
Blade mounting hole diameter
20mm
Bevel capacity
-1° to 46°
Maximum cutting depth
0°
66mm
45°
43mm
No-load speed
2,500 - 5,200 rpm
Lock off button
Yes
Brake Function
Yes
Soft Start
Yes
Overload Protection
Yes
Overheat Protection
Yes
Weight including battery 
5.4kg 
Dimensions L x W x H 
391 x 206 x 269mm
Battery
Compatible with the HiKOKI Multi Volt battery
18V 5.0Ah / 36V 2.5Ah Multi Volt Battery BSL36A18 
| | |
| --- | --- |
| Voltage | 18V / 36V |
| Ampere | 5.0Ah (36V) / 2.5Ah (18V) |
| Power Output | 1080W |
| Cell Technology | Lithium (Li-ion) cells |
| Cooling System | Yes |
| Battery Mounting | Slide |
| Battery Level Indicator | Yes |
| Approx. charge time UC18YSL3 | 32 minutes |
| Recharge cycles | Approx. 1,500 |
| Weight | 0.7kg (700 grams) |
| Dimensions (L x W x H) | 119 x 69 x 76mm |
| Compatibility | Compatible with HiKOKI 18V &36V Slide battery type products |
18V Rapid Charger with USB port UC18YSL3 
Voltage
14.4V / 18V
Battery type
Lithium-ion (li-ion) Slide battery
Fan cooling 
Yes
Charging time
Approx. 32min for 5.0Ah Battery
Approx. 38min for 6.0Ah Battery
Status indicator 
LED light
USP port
5V, 2.0Ah