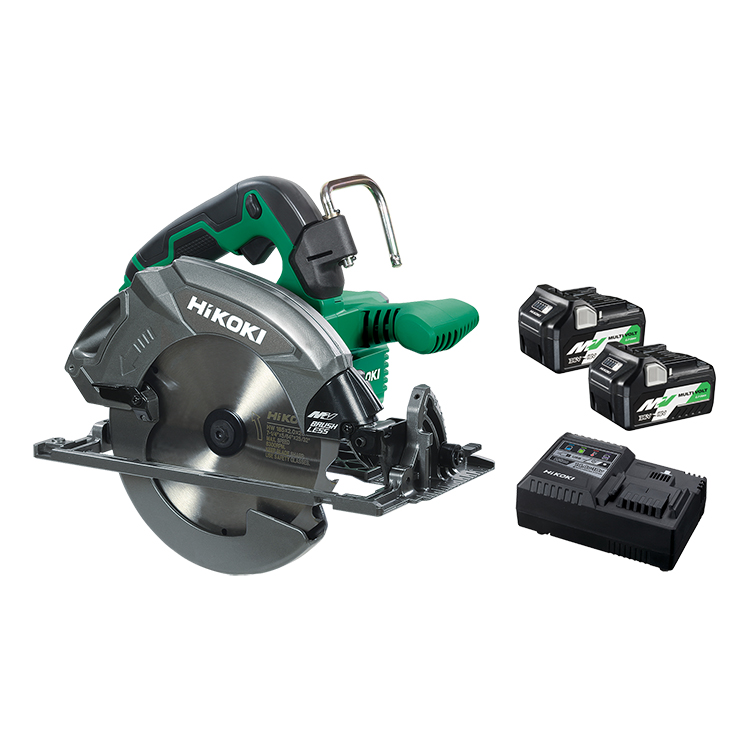 Description
The 36V Brushless 185mm Circular Saw Kit C3607DB(HRZ) from HiKOKI includes a powerful C3607DB(H4Z) 36V Brushless Circular Saw, ensuring efficient cutting. It's equipped with 2 x BSL36A18 MultiVolt Batteries for extended runtime. The UC18YSL3(H0Z) Rapid Charger with a USB port allows quick and convenient battery recharging. Ideal for professionals and DIY enthusiasts, this kit provides a portable, high-performance cutting solution for various applications.
Combo Kit includes:
Applications:
Cutting and shaping materials in woodworking, metalworking, construction, renovation, DIY projects, landscaping, automotive repair, crafting, HVAC, plumbing and fabrication across various industries.
Warranty:
Includes 3 Years Standard Warranty with an additional 3 Years when registered online. Click here to register.
Specifications
36V Brushless 185mm Circular Saw C3607DB(H4Z)
Voltage

36V

Motor

Brushless

Capacity

Max. of depth cut: 90°

62mm

Max. of depth cut: 45°

47.5mm

No load speed

6,000rpm (Auto Switch Mode)

4,500rpm (High Torque Mode)

Blade diameter

185mm

Cutting Angle

0° - 45°

Constant Speed Control

Yes

Brake Function

Yes

Kick Back Protection System

Yes

Soft Start

Yes

Material: 

Gear Cover, Lower guard base

Aluminium Die-Cast

Weight

3.7kg (without BSL36A18 battery)

Dimensions

Length

246

Width

340

Height

251

Battery type

BSL36A18 / BSL36A18X

Standard accessories

Guide bar, Tipped saw, 5mm Wrench, Rafter Hook