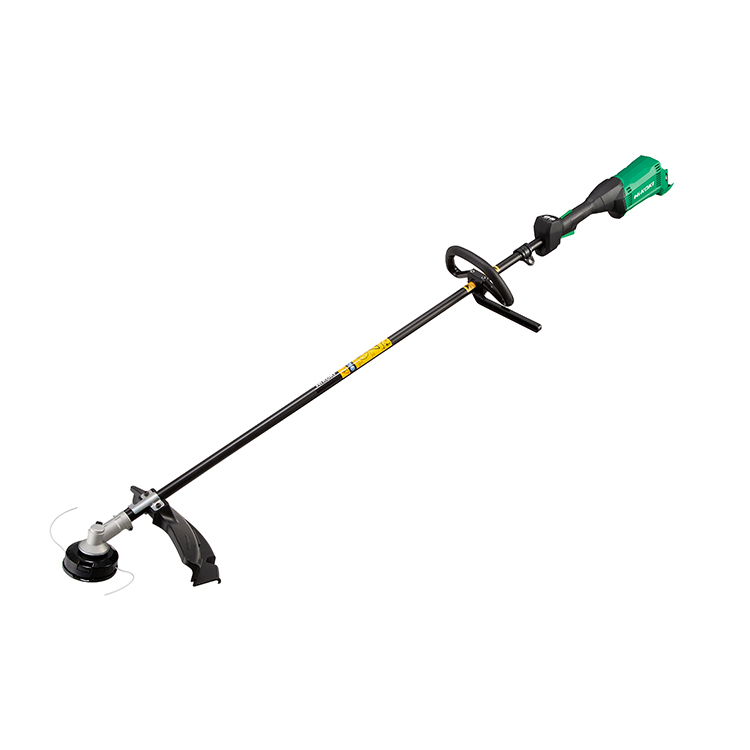 Description
Introducing the 36V Cordless Brushless Line Trimmer with Loop Handle CG36DB(H4Z) from HiKOKI.
With auto mode load function, it adjusts revolutions as workload increases for efficient performance. The rear motor placement ensures optimal power, balance, and maneuverability. Enjoy 3-stage speed control, improved operability, safety lock, and compatibility with HiKOKI Multi Volt battery.
Product Features:
3-stage Speed Control - allows for precise adjustments, enabling users to match the cutting speed to different materials and applications
Auto mode load function - automatically increasing revolutions as the workload intensifies. This ensures efficient operation and consistent performance
Improved operability - designed with user comfort and convenience in mind, offering ergonomic features that reduce fatigue during extended use
Safety lock - prevents accidental start-ups, providing an extra layer of protection during handling and storage
Compatible with the HiKOKI Multi Volt battery

Warranty:
Includes 3 Years Standard Warranty with an additional 3 Years when registered online. Click

 

here

 

to register.
Specifications
Voltage
36V
Motor type
Brushless
Operation handle
Two handed handle
Mower blade
255mm Ø
Torque
1.6Nm
Motor position
Rear
Shaft type
Straight
Switch type
Trigger with safety lock
Handle type
Loop
Cutting attachments
Semi auto nylon head & 3 teeth metal blade
Cutting capacity
Nylon head
440mm Ø
 
Metal blade
255mm Ø 
Nylon line Ø
2.4mm
No-load Speed
1- Eco
3,000rpm
 
2 - Auto
4,700rpm
 
3 - Power
6,000rpm
Approximate operating time under no load
1- Eco
115 minutes
 
2 - Auto
50 minutes
 
3 - Power
27 minutes
Spindle lock
Yes
Brake
Yes
Anti Kickback / Protection Function
Yes
Auto load function
Yes
Automatic power off
Yes
Spindle thread
M10 x 1.25 left hand
Weight including battery 
5.2kg
Dimensions (L x W x H)
1,840 x 340 x 193mm
Battery
HiKOKI Multi Volt batteries